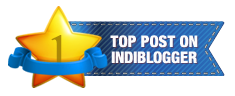 M for Monolithic Temple - Masroor.
Masroor
is 32 km from

Kangra

on Nagrota Surian link road and is famous for remarkable group of rock cut temples. They form a group of 15 monolithic rock cut temples in the Indo Aryan style and are richly carved.
These richly ornamented cave temples are the only rock shrines in the northern part of India.
An evening view from Masroor
The
Masroor Rock Cut Temple
, also known as
Himalayan Pyramid
and
Wonder of the World. Built in
8th-century, this monolithic rock cut temple complex of 15 temples is carved out of a single rock. The temple in the centre is carved inside while rest of the 14 temples (7 on either side of the central temple) are carved only on the outside and are reflected in the pond carved in front of these temples.
An aerial view of the complete Temple complex
According to a myth the Pandavas resided here during their long exile from their kingdom. In one of the areas of the temple there is a dungeon with a half built staircase.
Main Temple from one side
The local myth suggests that the Pandavas had unfolded the secret to build the stairway to heaven, but on the condition that the stairway should be built before the early morning hours. Lord Indra (the king of Heaven) was worried about this as upon the completion of that staircase the heaven would be accessible to all earthly beings without the Lord Indra's discretion.
He disguised himself as a rooster and crowed loudly before the early dawn. The Pandavas upon hearing the rooster crowing thought that they were unable to complete the stairway before the early morning.
They left the stairway uncompleted. One can still see that uncompleted staircase at Masroor.
Front View ( The temple being repaired)
The main shrine contains three stone images of

Ram Lakshmana & Sita. T
he presence of the figure of

Shiva
in the centre of the lintel also suggests that the temple was originally dedicated to

Shiva.
Entry of Main temple with shrines of Ram Lakshmana & Sita
More Ruins
The back of the main temple in ruins
( The rock-cut style of architecture started in the reign of the Pallava king Narsingha
varman I Mahamalla in early 7th Century and reached the climax in Kailash Temple in Ellora in late 8th Century. These rock-cut caves are however common in South India. Temples cut out of free standing rocks are confirmed to be only four in number-'Rathas of Mammalapuram', 'Kailashas at

Ellora

', 'temple-complex at Masrur in Kangra' and the 'Dharmnatha temple at Dhamnar', 65 miles to the South-East of Jhalra Patan in Rajasthan.
The Rathas and the Kailashas are built in the Dravidian style, whereas the Masrur and Dhamnar ones are in the Nagara style. Masrur beats its Nagara rival in situation, size and execution. The Masrur complex has 15 temples while the Dhamnar has only 8. The Masrur group is on top of a 2500 feet high hill range while Dhamnar is in a pit.)