"So finally we are transferred to Delhi. Lot of work needs to be done. Shifting is a big job and time is less." I told her sitting in the lobby taking a sip of the tea.
"Yes, I think we can leave all these furniture here at Patna and buy new one over there as per the size of the flat. You would not find such big houses over there."
"Very true! So we can just move with few briefcases and lock the things here. After all, this house is owned and there you would go in rented. "
"Right, and we should change the car too. There we should buy a new car. We need a better car."
"Ok. So where to sell? Here or at Delhi?"
"Wherever we get the better price!"
"Ad… There are too many calls. It disturbs."
"We can go with the Quikr NXT App. Then there would be no calls."
"Yes, the interested buyer can just send the chat message and we can satisfy all queries through chat while continuing with all our other works."
GM SAIL SEDAN – 2013 make available for sale. Excellent condition. Just 25000km driven. Can be delivered at Patna or Delhi. Contact… . The ad is flashed.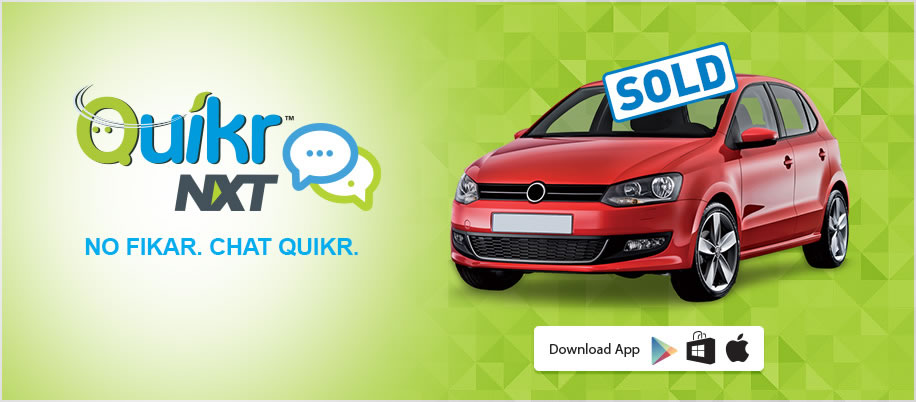 By evening there are overwhelming responses. Evaluation is on for the best offer price. Different quotes from different people.
Mr. Manchanda from Noida asked for more photographs. We exchanged the same immediately.
Dr. Kapoor from East Delhi asked for the papers and we shared the same in no time.
Miss Kalpana from Ghaziabad wanted to know about the accessories that are fitted and the interiors. She got the details instantly.
Chats continued about insurance, service till now, accidents if any, and anything below the sky. Fortunately I just had to send message on chat. I could just smile on the queries and type some text without straining the other senses. Thanks to Quikr Nxt. It made the handling of queries easy and helped manage the crucial time.
People at Delhi are offering better price but would finalise after having a look. So we can fix up the time and show them after reaching there. We finally discussed. Mr. Manchanda had offered the best and was given time for Sunday. We would be reaching by the car on Saturday. And the transaction can be done on Sunday.
After one week next Friday
We are ready to move all loaded in the car and the chat continues.
Me : "Yes Mr. Manchanda, we are leaving. We would be meeting tomorrow at 3:00 p.m. You can have a cup of tea with us and have a look at the car."
Mr. Manchanda : "Sure."
Mr. Manchanda comes at 3:00 pm.
"And now you would come have the dinner tomorrow with us tonight."
So we not only have the car sold but also a good friend made.
Aditya Sinha